Description
Our opinions of and advice to the world. Updated whenever we get around to it.
Comments and suggestions can be sent to:
Dana -
virtual_zero@hotmail.com
Bob -
bobtheright@hotmail.com
Syndicate this site:
Atom
RSS
Latest Posts
The Stink Over Undercover Cops
- Dana
On Chinese Goods
- Dana
Tweaking The Template
- Dana
If I Posted...
- Dana
On Automobiles
- Dana
The Grim Endpoint Of Public Healthcare
- Dana
My Idea: Club His Sorry Ass
- Dana
Robbed Again
- Dana
Nothing To See Here
- Dana
Finally Got Backlinks Working
- Dana
Links
Our Sponsors
Miscellaneous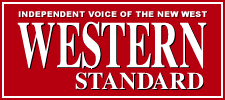 Privacy Policy
This work is licensed under a
Creative Commons License
.

Monday, March 13, 2006
Mark Steyn is
fisking Michael Adams
over at Macleans. Here are two quotes that particularly stick out. The first is a quote from an American about the differences between Canada and the US:
The difference between America and Canada is that Americans don't care what the difference between America and Canada is.
The second concerns a point that Adams is trying to make:
Adams' method was established in Fire and Ice: he notes at one point that in the U.S. SUVs outsell minivans by two-to-one, whereas in Canada it's vice versa. That's a fact. The fancy is in the meaning he appends to it. "This is a stark difference," he writes, "whose roots can be traced directly to the differing values of our two countries." This assertion seems to have no basis other than a casual assumption that Canadians are more environmentally responsible and thus more concerned with "excessive gasoline consumption, pollution and safety violations."

Isn't there a more obvious correlation? Minivans are cheaper than SUVs, and Canadians have less disposable income than Americans. It's easy to be "socially responsible" if you've got no choice in the matter. On the Continent they're driving around in things the size of Arnold Schwarzenegger's cup holder, so presumably they're more "socially responsible" still. In Canada those who can afford SUVs buy them, it's just that their numbers are smaller. Remember Herb Dhaliwal? Well, no, you probably don't. But a couple of years back M. Chrétien made him minister of natural resources, and he certainly got through a lot of them. He drove around like a Hamas warlord in a three-ton Cadillac Escalade. That's bigger than my SUV and I'm in favour of global warming. The difference is that the high living of a Liberal cabinet minister is confined, north of the border, mainly to Liberal cabinet ministers while down south it's more widely available.
Dhaliwal as a Hamas warlord in a three-ton Cadillac Escalade. Mint.
Monday, March 06, 2006
Over in Britian we have a story
that chills me to my bones
:
A baby at the centre of a landmark case over whether life support can be withdrawn has an "intolerable life", the High Court has heard.

Baby MB, who cannot be named, has spinal muscular atrophy - a genetic condition which leads to almost total paralysis - and cannot breathe unaided.

Doctors treating the 17-month-old say it is in his best interests to withdraw ventilation and to let him die.

But his family says he has a reasonable quality of life and should stay alive.

They feel he can recognise and respond to them, and that he gains enjoyment from spending time with his family.
You heard that right. A family has to go to court to prevent a doctor from killing their 17-month old son!
I'm sure it isn't uncommon for a doctor to develope some sort of God complex but this is plain nuts. For a doctor, a fully grown adult I might add, to tell a child's parents that the child wants to die seems to me to be the stuff of some sick horror story.
And to think that the parents have to sit in a courtroom and listen to this is plain sickening.
Labels: Healthcare, International
Thursday, March 02, 2006
Well it seems Paul McCartney has decided
to grace lovely P.E.I.
with his wisdom and good looks:
Longtime animal rights activists Paul McCartney and his wife Heather Mills arrived in Prince Edward Island on Wednesday to lend their star power to the campaign to end Canada's seal hunt.

The former Beatles musician hopes to take his wife, a contingent of international media, and animal-rights activists to a barren stretch of ice in the Gulf on Thursday to catch a glimpse of newborn seal pups.

McCartney wants to "highlight the work of two animal protection groups to stop the Canadian seal hunt," according to the Humane Society of the United States.
My advice to any Islanders that may come across his path is to wack him over the head with the largest object within reach.The poor guy apparently has nightmares at night about the suffering of poor seals in Canada's east coast. He seems to care less about the livelihoods of the people dependent on the seals for their income.
That of course isn't of any interest to Paul because lets be honest... there wouldn't be any photo-ops involved.
Regardless Paul here is my proposition to you... if you want to save the seals then it only seems fair that you should replace the lost income to all the families affected.
Why exactly should they suffer for your ego?