Description
Our opinions of and advice to the world. Updated whenever we get around to it.
Comments and suggestions can be sent to:
Dana -
virtual_zero@hotmail.com
Bob -
bobtheright@hotmail.com
Syndicate this site:
Atom
RSS
Latest Posts
The Stink Over Undercover Cops
- Dana
On Chinese Goods
- Dana
Tweaking The Template
- Dana
If I Posted...
- Dana
On Automobiles
- Dana
The Grim Endpoint Of Public Healthcare
- Dana
My Idea: Club His Sorry Ass
- Dana
Robbed Again
- Dana
Nothing To See Here
- Dana
Finally Got Backlinks Working
- Dana
Links
Our Sponsors
Miscellaneous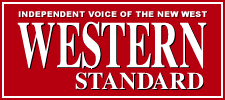 Privacy Policy
This work is licensed under a
Creative Commons License
.

Monday, December 12, 2005

It seems that some of the higher ups in the Liberal party don't trust Canadians to spend their own money. Hey, maybe they're right. Today I was thinking what I'd do if I got a twelve hundred dollar rebate from the government. I might not buy beer and popcorn with it, seeing as I don't like popcorn, but I could see myself going to a strip club and wasting the whole thing parting with strippers. I really love those Polish strippers that the Liberals bring into the country, they're so hot! So maybe I'd be better off with some guidance after all.

On a more serious note, maybe these Liberals are onto something here. Come on think about it, Liberals are the closest things to gods we have on this earth, they're very smart, honest and extremely generous. They would be much better at spending our money than we could ever hope to be. They would not only be in charge of our healthcare and daycare, but every aspect of our lives, from what we buy to eat, right down to our entertainment. Did I mention I love Polish strippers?

Every pay day we'd pass over our whole cheque, not just a third, to our Liberal overlords in Ottawa and they'd look after our every need. Wouldn't life be grand? No worries at all, the government would get the most out of our money, they wouldn't be wasteful like us mere humans. Who ever heard of a government wasting money anyway? Excuse me for a second while I go and puke, this type of crap tends to do that to me.
Monday, December 05, 2005

A man enters a bar and orders a drink. The bar has a robot bartender. The robot serves him a perfectly prepared cocktail, and then asks him, "What's your IQ?." The man replies "150" and the robot proceeds to make conversation about global warming factors, quantum physics and spirituality, biomimicry, environmental interconnectedness, string theory, nano-technology, and sexual proclivities.

The customer is very impressed and thinks, "This is really cool." He decides to test the robot. He walks out of the bar, turns around, and comes back in for another drink. Again, the robot serves him the perfectly prepared drink and asks him, "What's your IQ?." The man responds, "about a 100." Immediately the robot starts talking, but this time, about football, NASCAR, baseball, supermodels, favourite fast foods, guns, and women's breasts.

Really impressed, the man leaves the bar and decides to give the robot one more test. He heads out and returns, the robot serves him and asks, "What's your IQ?." The man replies, "Er, 50, I think." And the robot says... real slowly... "So............... ya gonna vote for the Liberals again?"

I know it's a lame joke, but I did make me laugh and that's all that matters. Is it not?