Description
Our opinions of and advice to the world. Updated whenever we get around to it.
Comments and suggestions can be sent to:
Dana -
virtual_zero@hotmail.com
Bob -
bobtheright@hotmail.com
Syndicate this site:
Atom
RSS
Latest Posts
Maybe we're Next
- Bob
Martin's legacy so far
- Bob
Movie attendance in Canada down
- Bob
No Room in Canada for War Criminals
- Bob
The Newest Member Of The Family
- Dana
Nazis Camps
- Bob
Ignorance was Bliss
- Bob
The Prime Minister is Right !!!
- Bob
Do you get a Free Lunch Too?
- Bob
Stupidity that gets you Killed
- Bob
Links
Our Sponsors
Miscellaneous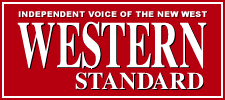 Privacy Policy
This work is licensed under a
Creative Commons License
.

Tuesday, August 16, 2005
For some strange season the following quote from Alexis De Tocqueville made me think about modern day Canada and the ruling Liberal Party.
"The American Republic will endure until the day Congress discovers that it can bribe the public with the public's money."
Can bribe the public with the public's money... sounds very familiar. I wonder what De Tocqueville would have to say about the current situation here in Canada?
crossposted to The Shotgun
1 Comment(s):
He probably wouldn't have anything to say as Canada hardly rates as a real country. The irrelevancy factor, you know.


Post a Comment