Description
Our opinions of and advice to the world. Updated whenever we get around to it.
Comments and suggestions can be sent to:
Dana -
virtual_zero@hotmail.com
Bob -
bobtheright@hotmail.com
Syndicate this site:
Atom
RSS
Latest Posts
Martin's legacy so far
- Bob
Movie attendance in Canada down
- Bob
No Room in Canada for War Criminals
- Bob
The Newest Member Of The Family
- Dana
Nazis Camps
- Bob
Ignorance was Bliss
- Bob
The Prime Minister is Right !!!
- Bob
Do you get a Free Lunch Too?
- Bob
Stupidity that gets you Killed
- Bob
The Jackson Trial
- Bob
Links
Our Sponsors
Miscellaneous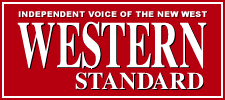 Privacy Policy
This work is licensed under a
Creative Commons License
.

Monday, August 15, 2005

Today the Canadian Taxpayers Federation slammed Conservative leader Stephen Harper for being "silent" on gas taxes, the federal surplus, day care and smaller government. Well that got me to thinking, maybe Dana and I are next on their shit list... we've been pretty quite lately too.

On second thoughts, they probably don't even know who we are, so I guess the embarrassment of us being called out in the media will probably not happen this week. But just to cover our asses, I want smaller government, a tax cut and no stinking government daycare. There, that should keep the folks at the Canadian Taxpayers Federation happy for a while.

1 Comment(s):
Welcome back.


Post a Comment