Description
Our opinions of and advice to the world. Updated whenever we get around to it.
Comments and suggestions can be sent to:
Dana -
virtual_zero@hotmail.com
Bob -
bobtheright@hotmail.com
Syndicate this site:
Atom
RSS
Latest Posts
Remembering World War II
- Dana
The 97 Crowd
- Bob
Vote Neville Chamberlain!
- Bob
You think Gas Prices are High Now
- Bob
Hell Is Mighty Cold These Days
- Dana
Paul Martin and the Cereal Guy
- Bob
Leaders Wanted
- Bob
Weasels
- Dana
Way To Go Steve!
- Dana
Purse Strings are Wide Open
- Bob
Links
Our Sponsors
Miscellaneous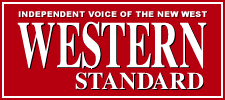 Privacy Policy
This work is licensed under a
Creative Commons License
.

Friday, May 13, 2005
The Liberal House leader, Tony Valeri was speaking before the media yesterday and had this to say about the perception the Parliament is paralysed.
"I reject the comment that there's a paralysis in Parliament."
Later in the day, Mr. Valeri was asked about another perception that most people commonly hold.
"I reject the comment that the sky is blue."
Now that we all stand corrected by Mr. Valeri we can all get back to wondering about other things, such as which came first, the chicken or the egg? Maybe Tony could set the record straight on that one too.
0 Comment(s):
Post a Comment