Description
Our opinions of and advice to the world. Updated whenever we get around to it.
Comments and suggestions can be sent to:
Dana -
virtual_zero@hotmail.com
Bob -
bobtheright@hotmail.com
Syndicate this site:
Atom
RSS
Latest Posts
Vote Neville Chamberlain!
- Bob
You think Gas Prices are High Now
- Bob
Hell Is Mighty Cold These Days
- Dana
Paul Martin and the Cereal Guy
- Bob
Leaders Wanted
- Bob
Weasels
- Dana
Way To Go Steve!
- Dana
Purse Strings are Wide Open
- Bob
Top Canadian Political Blogs
- Bob
Getting the Boot
- Bob
Links
Our Sponsors
Miscellaneous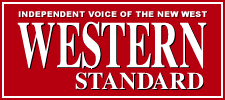 Privacy Policy
This work is licensed under a
Creative Commons License
.

Wednesday, May 11, 2005
I think I posted this quote before, but it explains Jack Layton and the supporters of the NDP perfectly.
"If you ask a man how much 2 plus 2 is and he tells you 5, that is a mistake. But is you ask a man how much is 2 plus 2 and he tells you 97, that is no longer a mistake. The man you are talking with is operating with a wholly different logic from your own."
Yup, Jack and his true believers are absolutely in the two plus two equals 97 crowd. They operate on a little bit of a different wave length than the majority of the population.
0 Comment(s):
Post a Comment