Description
Our opinions of and advice to the world. Updated whenever we get around to it.
Comments and suggestions can be sent to:
Dana -
virtual_zero@hotmail.com
Bob -
bobtheright@hotmail.com
Syndicate this site:
Atom
RSS
Latest Posts
Rural Healthcare is Dying
- Bob
The Red Ensign Brigade #20
- Dana
Media Bias In The UK
- Dana
Give It Up Already!
- Dana
An Election isn't Necessary?
- Bob
It's Pretty Much Official Then
- Dana
Martin to Address Nation
- Bob
Iran will develop Nukes
- Bob
He Can't Be Serious?
- Dana
Must See
- Dana
Links
Our Sponsors
Miscellaneous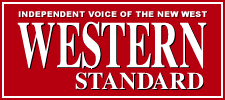 Privacy Policy
This work is licensed under a
Creative Commons License
.

Wednesday, April 27, 2005
What a great idea, Ezra Levant and the gang over at the
Western Standard
are putting a 17" x 22" glossy poster of The Libranos in the up coming issue. If you want to check it out, go over to
The Shotgun
and take a look.
There is bad news though, the poster is only available to subscribers. But hey, look on the bright side, if you really want a Libranos poster, I may sell you mine. Because my soon to be kick ass Libranos poster and Jack Layton are a little alike in one respect, they can both can be bought for the right price. But don't get your hopes up too high, I'm not quite as cheap as Jack.
2 Comment(s):
Good news - Sports Poster Warehouse in Toronto is now selling the poster for $9.95. Go to http://www.sportsposterwarehouse.com or click on the web page link below.


Sorry...click on link above.


Post a Comment