Description
Our opinions of and advice to the world. Updated whenever we get around to it.
Comments and suggestions can be sent to:
Dana -
virtual_zero@hotmail.com
Bob -
bobtheright@hotmail.com
Syndicate this site:
Atom
RSS
Latest Posts
Grading the Debate
- Bob
Find Me That Carpet!
- Dana
Martin Forgot His Hearing Aid
- Bob
NDP Campaign Sign Update
- Bob
Arg! I Hate Liberals!
- Dana
Top 10 Armies
- Bob
Liberals are Slow Learners
- Bob
Reagan Helped Israel Destroy Reactor
- Bob
Only the NDP
- Bob
Chirac Disagrees
- Bob
Links
Our Sponsors
Miscellaneous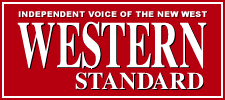 Privacy Policy
This work is licensed under a
Creative Commons License
.

Wednesday, June 16, 2004
The recent Canadian Community Survey reports that gays in Canada make up about 1% of the poplulation.
Thats fine and dandy I guess but this from a Globe and Mail
article on the subject
reveals their inability to report things in a non-biased manner:
When a number is attached to a gay community, ideological battles emerge, said Michael Botnick, a lecturer on sociology at the University of British Columbia.

"Clearly, from a right-wing perspective, they'd like to see the numbers lower," he said. "From the more libertarian perspective, they'd like to see the numbers more accurate, or higher. So nobody's going to be satisfied."
This supposed expect on the subject says some people would like to see the numbers being 'more accurate, or higher'? Where do they find these idiots?
0 Comment(s):
Post a Comment