Description
Our opinions of and advice to the world. Updated whenever we get around to it.
Comments and suggestions can be sent to:
Dana -
virtual_zero@hotmail.com
Bob -
bobtheright@hotmail.com
Syndicate this site:
Atom
RSS
Latest Posts
Don't Look Now
- Bob
Guess Who
- Bob
A Moore Quickie
- Bob
So Which One Is It?
- Bob
On Europe
- Dana
As Quagmires Go...
- Dana
Some Reading Material
- Dana
Martin And The Truth
- Dana
Brave In What Manner Exactly?
- Dana
A Soldier's Thoughts on Martin
- Bob
Links
Our Sponsors
Miscellaneous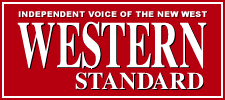 Privacy Policy
This work is licensed under a
Creative Commons License
.

Saturday, June 26, 2004
Warning :
If you are easily offended by male stereotypical behavior, then I suggest that you do not read the rest of this post.
There is a strange phenomenon that is starting to take place at anti-Harper rallies. The Winnipeg Sun was reporting from outside Conservative campaign headquarters of candidate Rod Bruinooge, where a group of about 30 demonstrators had gathered.
Some people in the group were protesting in just the same old boring manner, with signs with lame sayings on them, while others were just along for the ride. But the newest and coolest form of protest is the lesbian embrace. Here the Sun reports,
"A lesbian couple embraced and kissed for several minutes outside the Conservative gathering, held in the oversized campaign office of Winnipeg South candidate Rod Bruinooge, who is trying to unseat senior Manitoba Liberal Reg Alcock."
Call me a pig, but I am speaking for most men on this issue, that is one great way to protest something, hopefully this catches on nation wide. We needed the Flames girls doing this exact same thing as a way of protesting the officiating during the Stanley Cup final, now that would have drawn some attention.
0 Comment(s):
Post a Comment