Description
Our opinions of and advice to the world. Updated whenever we get around to it.
Comments and suggestions can be sent to:
Dana -
virtual_zero@hotmail.com
Bob -
bobtheright@hotmail.com
Syndicate this site:
Atom
RSS
Latest Posts
Guess Who
- Bob
A Moore Quickie
- Bob
So Which One Is It?
- Bob
On Europe
- Dana
As Quagmires Go...
- Dana
Some Reading Material
- Dana
Martin And The Truth
- Dana
Brave In What Manner Exactly?
- Dana
A Soldier's Thoughts on Martin
- Bob
Rate of Terror Attacks Slows
- Bob
Links
Our Sponsors
Miscellaneous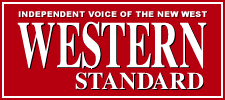 Privacy Policy
This work is licensed under a
Creative Commons License
.

Saturday, June 26, 2004
As we all know by now, Michael Moore has warned Canadians not to vote for the Conservative party, well add one more to the list, Ralph Nader is also pleading with Canadians to not vote for the Conservatives.
Full story here.
Nader and Moore ganging up to warn Canadians, think about who these two guys are for a second, they are about as far left as you can get in the political spectrum which makes this no surprise at all. Then why is this news exactly, two socialists worried about a conservative party?
Anyway, Nader and Moore have had an effect on who I'm voting for, I was planning on spoiling my ballot because I'm not the biggest fan of the Conservative candidate in my area but now, I'm voting Conservatives all the way. Good jobs guys, you made it impossible for me to not vote for the Conservatives, simply because I wouldn't be caught dead doing anything that Nader and Moore told me to do, retards.
Update @ 1:53
Kelvin makes a good point in his letter to Ralph Nader over at
the blue revolution
.
0 Comment(s):
Post a Comment