Description
Our opinions of and advice to the world. Updated whenever we get around to it.
Comments and suggestions can be sent to:
Dana -
virtual_zero@hotmail.com
Bob -
bobtheright@hotmail.com
Syndicate this site:
Atom
RSS
Latest Posts
Top Ten Flags
- Bob
40 Reasons For Gun Control
- Dana
Canada Defends Fish Stocks
- Bob
CBC Bias
- Dana
Sudan A Model For Human Rights
- Bob
Just Some Odds'n Ends
- Dana
Shaltout's Story
- Bob
Religious Reasoning
- Bob
Another Diplomatic Letter
- Dana
A Bad Message to Send
- Bob
Links
Our Sponsors
Miscellaneous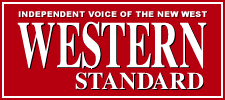 Privacy Policy
This work is licensed under a
Creative Commons License
.

Monday, May 10, 2004
In a recent poll 50% of Canadians thought that the federal government spent their income tax poorly, in the same survey, 39% believed it was spent properly.
Full story here.
I going to give a wild guess here, but I think that in the same poll only 50% of those asked watched the news, while 39% doesn't watch the news at all. That would explain the small gap in the poll numbers. I can't imagine that many people would think the government is spending our tax dollars wisely. You'd have to be a die hard Liberal to not admit that our tax dollars are being wasted.
0 Comment(s):
Post a Comment