Description
Our opinions of and advice to the world. Updated whenever we get around to it.
Comments and suggestions can be sent to:
Dana -
virtual_zero@hotmail.com
Bob -
bobtheright@hotmail.com
Syndicate this site:
Atom
RSS
Latest Posts
Putting It In Perspective
- Dana
We're All Screwed
- Dana
The Biggest Windbag Ever
- Bob
WMDs Are a Dead Issue
- Bob
Guns Fall Quiet?
- Dana
Canadian Hockey Roster
- Bob
Does Arafat Want Peace?
- Bob
The Vatican's Hypocrisy
- Bob
Previous Poll Results
- Dana
Life In Iraq
- Dana
Links
Our Sponsors
Miscellaneous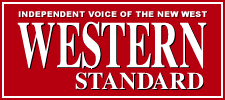 Privacy Policy
This work is licensed under a
Creative Commons License
.

Tuesday, May 18, 2004
Prince Edward Island MLA Andy Mooney has finally said what so many people in the private sector have thought for years. Mooney has called on all seasonal workers in the region to be more willing to take full time jobs instead of just settling for a 13-week make work project run by the government.
"The private sector should not have to compete with the government."
Moony has been applauded for his courage to speak the truth about a very touchy issue here on P.E.I. He has received many phone calls of support and has gotten only one negative response so far.
"They all said my statement was words so many think but nobody has the courage to come out and say."
Just recently a call center in the Western end of the province had to close its doors because they were having a hard time hiring workers. Management at the center said that they were able to only employ about half the number of workers that they had hoped for. This is not because of a lack of population in the area, its because people with government benefits have no incentive to work full-time.
A lot of people don't need to work full-time, its that simple, the government enables them to work only 13-20 weeks of the year by offering EI enhancing programs and make work projects so people can live comfortably doing as little work as possible.
There is no incentive to work full-time, by the time you add up childcare, gas and up keep for your car to travel back and forth to work with, it just doesn't pay to work year around. It makes sense to stay home. The government should give people more incentive to work, by lowering income tax for low income families, make it beneficial to work all year around.
0 Comment(s):
Post a Comment