Description
Our opinions of and advice to the world. Updated whenever we get around to it.
Comments and suggestions can be sent to:
Dana -
virtual_zero@hotmail.com
Bob -
bobtheright@hotmail.com
Syndicate this site:
Atom
RSS
Latest Posts
Election Analysis of Egmont
- Bob
Childish Views
- Dana
Is That A Cliff I See Approaching?
- Dana
Gimme Five
- Bob
30 Today!
- Bob
He's Insane!!!
- Bob
Maritimes to be Starved Out
- Bob
Who's The Nazi?
- Dana
NDP Reverts To It's Old Ways
- Dana
Healthcare And Politics
- Dana
Links
Our Sponsors
Miscellaneous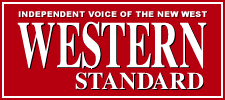 Privacy Policy
This work is licensed under a
Creative Commons License
.

Sunday, May 30, 2004
P.J. O'Rourke tells us
how the world would look
if America became isolationist:
...

America will enjoy cleaner air and less traffic congestion as oil goes to $200 a barrel due to chaos in the Middle East. A U.S. withdrawal from the Middle East will cause chaos, of course. Then again, a U.S. intervention in the Middle East has caused chaos already. And, during those periods of history when the U.S. was neither intervening in nor withdrawing from the Middle East, there was . . . chaos. The situation is akin to the famous complaint women have against men: failure to acknowledge that not every problem can be fixed. Sometimes the best thing is just a little sympathy. America had everyone's sympathy after the World Trade towers were attacked. We can get that sympathy back if we limit our foreign policy objectives to whining.

...

One thing to whine about will be the fate of Israel. Without American safeguards that nation is certain to be militarily attacked. To judge by previous Israeli wars, in 1948, 1956, 1967, 1973 and 1982, the result will be serious headaches for Israelis as the Knesset furiously debates the status of Jewish settlements outside Damascus and on the west bank of the Euphrates.

...

The threat of nuclear proliferation will abate as dangerous stockpiles of atomic weapons are quickly used up. The loss of life will be regrettable. But this will be counterbalanced by the welcome disappearance of long-standing international flashpoints when the India-Pakistan border is vaporized, Tehran disappears in a mushroom cloud, and whatever is left of the Korean Peninsula becomes reunited.
P.J. kicks ass.
0 Comment(s):
Post a Comment