Description
Our opinions of and advice to the world. Updated whenever we get around to it.
Comments and suggestions can be sent to:
Dana -
virtual_zero@hotmail.com
Bob -
bobtheright@hotmail.com
Syndicate this site:
Atom
RSS
Latest Posts
Did You Know?
- Bob
Life in the Sudan
- Bob
Some Funnies Courtesy of the Girlfriend
- Dana
Sea Kings to Fly Again
- Bob
Help Us Understand Haiti
- Bob
Saddam Takes Billions
- Bob
I Am Joe, and I'm Canadian
- Bob
Solution for Hamas
- Bob
The Palestinian Authority Speaks
- Bob
Shoko Asahara To Hang
- Bob
Links
Our Sponsors
Miscellaneous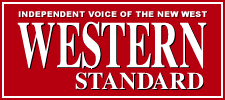 Privacy Policy
This work is licensed under a
Creative Commons License
.

Tuesday, March 02, 2004
I found a quote the other day that explains why our friends on the far left don't seem to understand our logic most of the time. It's from Ludwig Wittgenstein.
" If you ask a man how much 2 plus 2 is and he tells you 5, that is a mistake. But if you ask a man how much is 2 plus 2 and he tells you 97, that's no longer a mistake. The man you are talking with is operating with a wholly different logic from your own."
So that's it, I guess everyone in the world doesn't operate on the same logic as we do. It's true that everyone on the Earth will not all agree on all issues, so it's comes down to how you agree to disagree.
Some people can make their own ideas better by adding other people's thoughts, others react negatively to new or different ideas. So the most we can hope for in the world is that everyone can be reasonable.
Being reasonable doesn't mean being soft when faced with unreasonable people. Unreasonable people only understand one thing and that's power, about half of the world today still operates on this type of system. This is what people on the left fail to realize, sure here in the West we can talk things out among ourselves but in many other place in the world power comes from the barrel of a gun, it's a fact.
The world is an ugly place to do business, someday it my not be that way but it is for now. We on the right wish that all of the world's people could just get along, the same as people on the left wish. We on the right though are realists, we're not one big happy world just yet, I promise you we'll not see a near prefect world in our time. So let's be reasonable and see how this whole thing turns out.
0 Comment(s):
Post a Comment