Description
Our opinions of and advice to the world. Updated whenever we get around to it.
Comments and suggestions can be sent to:
Dana -
virtual_zero@hotmail.com
Bob -
bobtheright@hotmail.com
Syndicate this site:
Atom
RSS
Latest Posts
Coulter Strikes Again
- Bob
Positive View of America
- Bob
Liberal Government In Trouble
- Bob
It Seems Iraq Is Coming Around
- Dana
Trying Times At Guantanamo
- Dana
Animal Rights Gone To Far?
- Bob
Steyn On Cherry
- Dana
Egypt Needs Change
- Bob
Starting To Use Atom
- Dana
Hasselhoff Ended The Cold War
- Dana
Links
Our Sponsors
Miscellaneous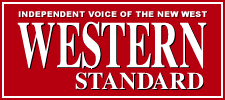 Privacy Policy
This work is licensed under a
Creative Commons License
.

Wednesday, February 11, 2004
Here is another disturbing story
of how our government is screwing the people of Canada. When the government was wasting money on the federal sponsorship program from 1997 to 2001 it could have been doing the decent thing by providing headstones for our WWII veterans.
I don't know if I'm being petty but aren't the veterans of WWII the reason we have this great country we live in today. It would be a small token of respect that the government could show the families by coming up with funds to give the veterans a proper burial.
The government dragging their feet on this matter is disrespectful. We come to expect the government to drag it's feet on almost all issues but in situations like this, providing the proper funds in a timely manner would be the proper thing to do. Give these veterans their dew, is a proper headstone to much to ask out of our government. (Apparently yes!)
0 Comment(s):
Post a Comment