Description
Our opinions of and advice to the world. Updated whenever we get around to it.
Comments and suggestions can be sent to:
Dana -
virtual_zero@hotmail.com
Bob -
bobtheright@hotmail.com
Syndicate this site:
Atom
RSS
Latest Posts
Proportional Representation in Canada
- Dana
Predictions for 2004 Canadian Elections
- Dana
Are you a Neocon?
- Dana
Only in Canada
- Dana
15 Minutes of Entertainment
- Bob
New U.N. Resolution
- Bob
Required Reading
- Bob
Democrats That Support Bush
- Bob
War on Terror and Gulf War II Poetry
- Dana
Somewhat of a technical question
- Dana
Links
Our Sponsors
Miscellaneous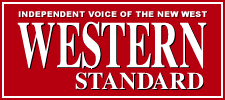 Privacy Policy
This work is licensed under a
Creative Commons License
.

Tuesday, February 03, 2004
He's a little reality check for the 85% of Canadians that said they wouldn't vote for George W. Bush if they had the chance. One of the major reasons a lot of Canadians dislike George W. is his supposed tilt toward big business. It turns out Paul Martin is all for big business, especially his big business. Everybody must have heard
this story
by now, Paul Martin's company getting huge government contracts. (Much to the surprise of Mr. Martin, come on does he think we're that stupid?)
When asked in the house about the problem, Mr. Martin didn't let on he knew much of anything judging by this quote,
"I would be prepared to ask the Auditor-General to ask why in fact there was delay between the original question and the provision of those numbers, I'm prepared to ask the Auditor-General, Mr. Speaker, if she would like to take a look at this."
That's a great display of leadership there isn't it. Always look into something if your caught but never before anybody finds out because doing so before hand would be honest and we don't need that from our elected officals, moron! (That would be completely stupid, looking into something before it makes the news.)
Somebody as good with budgets as Mr. Martin is, I find it hard to believe he has trouble telling the difference between
$137 thousand
and
$161 million
. It's not like it was a small error to overlook but I guess he could place the blame on his sons who are actually running the company while he runs the country. (And fills his own pockets in the process.) As for all you Bush haters out there, we should be looking after our own country first and that starts with the Prime Minister.