Description
Our opinions of and advice to the world. Updated whenever we get around to it.
Comments and suggestions can be sent to:
Dana -
virtual_zero@hotmail.com
Bob -
bobtheright@hotmail.com
Syndicate this site:
Atom
RSS
Latest Posts
Canada Wins The Award For ...
- Dana
NBC Lets Go Journalist
- Bob
Palistinian Victims?
- Dana
No Headstones for WWII Vets
- Bob
Coulter Strikes Again
- Bob
Positive View of America
- Bob
Liberal Government In Trouble
- Bob
It Seems Iraq Is Coming Around
- Dana
Trying Times At Guantanamo
- Dana
Animal Rights Gone To Far?
- Bob
Links
Our Sponsors
Miscellaneous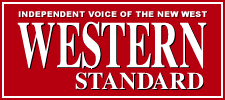 Privacy Policy
This work is licensed under a
Creative Commons License
.

Saturday, February 14, 2004
The recent slide in the polls by the Liberal government is good for Canada. It shows that they are being held accountable by the people of Canada.
Here is a recent story in the Globe and Mail
that shows the latest poll numbers. It shows the Liberals at
39
down from
48
, Conservatives up to
24
from
19
and the NDP up to
18
from
16
.
The governing Liberals have had a free ride for too long. They think they can do anything and get away with it, with all the opposition parties divided and/or disorganized. Even if they Conservatives don't win this election it will be closer and that makes the ruling government more accountable, which is good for us.
0 Comment(s):
Post a Comment