Description
Our opinions of and advice to the world. Updated whenever we get around to it.
Comments and suggestions can be sent to:
Dana -
virtual_zero@hotmail.com
Bob -
bobtheright@hotmail.com
Syndicate this site:
Atom
RSS
Latest Posts
Clement Takes Shot At Martin
- Dana
Letter From Abu Musah al-Zarkawi
- Bob
Kerry Sucking Up to Iran
- Bob
Good News for Canada
- Bob
Canada Wins The Award For ...
- Dana
NBC Lets Go Journalist
- Bob
Palistinian Victims?
- Dana
No Headstones for WWII Vets
- Bob
Coulter Strikes Again
- Bob
Positive View of America
- Bob
Links
Our Sponsors
Miscellaneous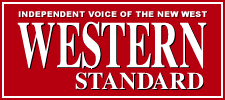 Privacy Policy
This work is licensed under a
Creative Commons License
.

Monday, February 16, 2004
After 10 years in Parliament
Elsie Wayne is saying goodbye to national politics
.
This is a big loss for the Conservative Party on par with the retirement of Deborah Grey last year. Both of these women have been strong Parliamentarians who never failed to lead their party when needed.
Elsie never failed to call a spade a spade and talked directly about issues instead of watering down her arguments. I will have fond memories of her.
I wish her all the best. And any Conservative Party leadership contendor would be wise you win her endorsement.
0 Comment(s):
Post a Comment