Description
Our opinions of and advice to the world. Updated whenever we get around to it.
Comments and suggestions can be sent to:
Dana -
virtual_zero@hotmail.com
Bob -
bobtheright@hotmail.com
Syndicate this site:
Atom
RSS
Latest Posts
Good News for Canada
- Bob
Democracy In Iran?
- Bob
The Moral Case For Capitalism
- Dana
Andrewcoyne.com Is Down And Out
- Dana
Building Momentum
- Dana
Liberal Blunders
- Bob
Tax Policy
- Dana
Canada Welcomes the World
- Bob
Farewell Elsie
- Dana
Clement Takes Shot At Martin
- Dana
Links
Our Sponsors
Miscellaneous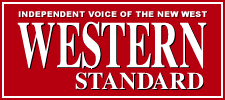 Privacy Policy
This work is licensed under a
Creative Commons License
.

Thursday, February 19, 2004
I going to give you some stats that give you an idea how much Canada depends on selling exports to the United States of American. This is for all of you that don't like the U.S. and think we shouldn't be as friendly with them as we are. Canada has way more than the Americans to lose if our relationship goes sour.
That's start with a quote from Andrew Cohen.
"The Canadian economy is more dependent than many other economies on exports for the maintenance of a high standard of living, Canada, with its smaller population, has to have a large export market in order to keep down the costs of production. Therefore, it has long been a fundamental need with the Canadian government to follow whatever course of action is necessary to maintain the highest possible level of international trade"
Our large export market is the U.S. and the course of action to maintain that level is to be friendly with the American government, simple isn't it.
Another Cohen quote concerning softwood lumber and food, which is brought up often by people who are anti-American.
" Lumber and food represent only part of a trading relationship of 453 billion which has actually generated few problems in relation to its staggering growth, and which continues to generate a surplus year after year in favor of Canada. Indeed, Canada enjoys a higher trade surplus, per capita, than any other trading partner of the United States. Curiously, the Americans don't seem to have noticed, and if they have, they don't seem to care."
It seems that despite a couple troubling issues between us and the Americans we are getting the better of the deal.
Here are the stats I promised you.
- Between 1990 and 2001 Canada's GNP grew an average of 2.5 %, exports grew an average of 6.8%, see the direct effect exports have on the country.
- In 1989, the year the free trade agreement was signed exports grew to 26.5% of Canada's GNP. By the year 2000 that had grown to 45.3% of the GNP.
- Canada is among the top 6 or 7 traders in the World and we are now producing higher technology products which ensures Canada's place among the World's traders.
- In 2001 , two-way trade between Canada and the U.S. was at 657.7 billion, which works out to about 1.85 billion a day.
- The United States accounts for about 87% of Canada's exports.
- All of the rest of the World's nation make up less than 15% of Canada's exports but if you couldn't figure that out from the last stat, then I'm wondering how you even turned your computer on.
I hope I made my point, until there are other markets for Canadian goods we have to keep a close relationship with the United States. It's not like the government hasn't been trying to open up new markets, remember the trade missions to South America and China.
The American market is just the easiest place for us to do business, they speak our language, have a democracy, promote stability and up hold the laws of trade thought out the World. Having the Americans as next door neighbors benefits us greatly.
0 Comment(s):
Post a Comment