Description
Our opinions of and advice to the world. Updated whenever we get around to it.
Comments and suggestions can be sent to:
Dana -
virtual_zero@hotmail.com
Bob -
bobtheright@hotmail.com
Syndicate this site:
Atom
RSS
Latest Posts
Why?
- Bob
A Few Changes at canadiancomment
- Dana
Saddam Overshadowing Saddam
- Bob
O'Reilly Has It Right
- Bob
Give War A Chance
- Dana
Iraqi Goose, U.N. Gander
- Dana
Kilroy-Silk and the BBC
- Dana
Endorsements
- Bob
Liberal Intimidation
- Dana
Request for Input
- Dana
Links
Our Sponsors
Miscellaneous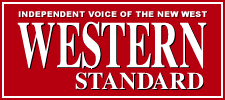 Privacy Policy
This work is licensed under a
Creative Commons License
.

Friday, January 16, 2004

Well we just can be from the hockey game. The Senators tied the Islanders 4-4. The Islanders had a 4-1 lead in the second so I was getting prepared to write a post about how bad the reffing was. Heck I could have done as good a job watching the game at home and calling the game by phone. Zdeno Chara was called with an Unsportsmanlike Dive. What the bloody hell is an Unsportsmanlike Dive?

I may have been out of the NHL loop for a few years but does anyone know if its become NHL policy to dream up a new stupid penalty call every year?

And whats up with those New York Islanders? Like please. Who in their right mind could cheer for such a slack bunch? The only thing the team ever had going for them was Mike Bossy but even still; have you ever seen a man goofier looking than Mike Bossy? I suppose they must have a few fans from the early 80s when they won the Cup a bunch of times, but even then, those fans would be nothing but a bunch of losers who jumped on the bandwagon when times were good.

A sad bunch indeed. I wonder if Bob has any ideas on what could possibly make a mind deranged and damaged enough to cheer for the Islanders?