Description
Our opinions of and advice to the world. Updated whenever we get around to it.
Comments and suggestions can be sent to:
Dana -
virtual_zero@hotmail.com
Bob -
bobtheright@hotmail.com
Syndicate this site:
Atom
RSS
Latest Posts
Some slick graphics
- Dana
Democracy in Iraq
- Dana
Bush In Baghdad
- Bob
The DFO
- Dana
Robert Thibault Update
- Bob
Thanks to those linking to us
- Dana
The Canadian Dictator
- Bob
Deport Ernst Zundel
- Bob
Dear Lord Save Us
- Bob
Message to Protesters
- Bob
Links
Our Sponsors
Miscellaneous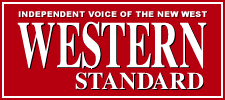 Privacy Policy
This work is licensed under a
Creative Commons License
.

Monday, December 01, 2003

Today a small crowd of protesters were out in Sherbrooke, Que. to demand the withdraw of Canadians from Afganistan. The 5th Canadian Mechanized Brigade was doing some much needed urban training before they left for Afganistan in the Sherbrooke area.

"It bothers me, I don't like it, I'm against war, this is not their place, and it's not a good image for children." proclaimed activist Martin Langlois 33. Martin says he doesn't like war, well that is understandable but if it was not for the Canadian and international troops stationed in Afganistan there would be a major civil war taking place as we speak, so the Canadian troops are actually preventing war in a country that has known nothing but war for decades. You would thing that Mr. Langlois would be happy instead for protesting the Canadian commintment in Afganistan.

Secondly he states that it is a poor image for the children. Yes very poor indeed, imagine showing our Canadian children that we care about the international community and that they can help a country in a great need of help. These soldiers are doing Afganistan a great service and should be held in the highest regard. Canadian troops are providing security so children and adults can go to school or back to work. These troops also clear mines, so it's safe to walk down the road without the fear of losing a leg, I mean imagine the example we'd be setting for the poor children that would witness these actions. Canadian troops are also involved in countless projects to repair the infrastructure and many other things which I am not aware of.

Brig-Gen Jocelyn Lacroix had this to say about the people out protesting against is troops. "I would like to take the protesters with me to show them what we do". "There are people over there who call us angels of peace. I have no doubt in my heart that we are there to do humanitarian work. But we must be perpared". I couldn't agree more with the Brig-Gen. So the next time somebody wants to protest about something the least they could do is learn the facts first then make your decision about if it is worth protesting because it seems this time they don't have their facts in order.

This deployment of Canadian soldiers to Afganistan is about what these protesters want, which is peace so it doesn't seem to make much sense to be against it now does it. If this mission wasn't for humanitarian reasons Canada would not have been involved this long and preparing for another troop rotation. So get the facts or stay home and read some Canadian blogs or something productive like that (just a suggestion).